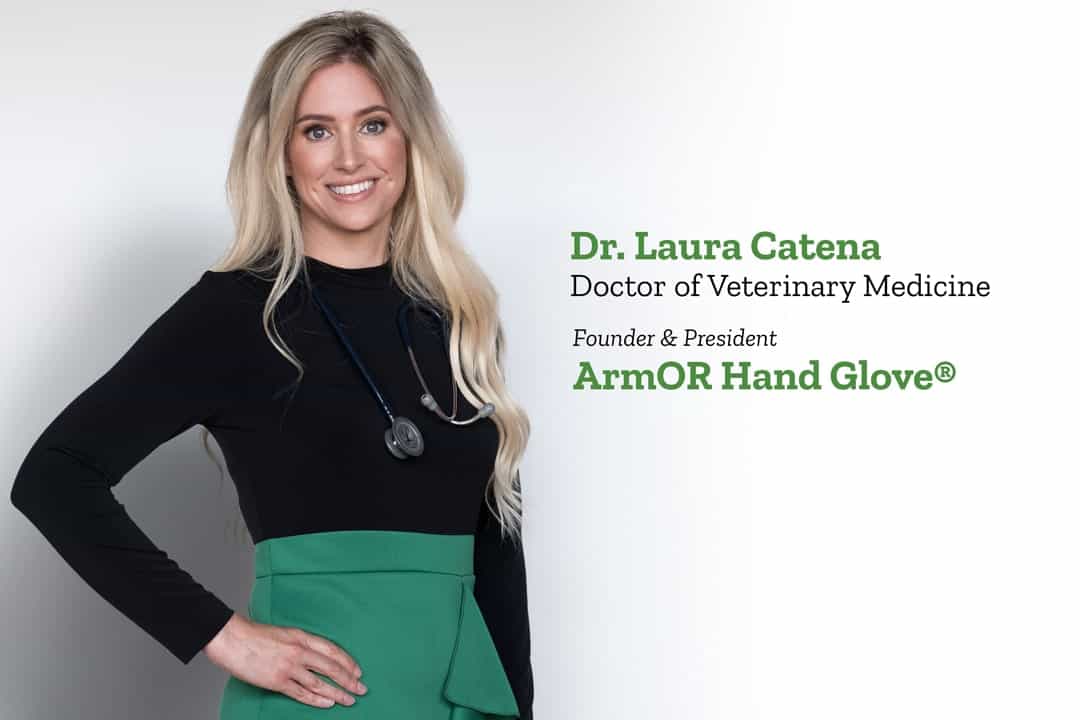 I love being a veterinarian, and I am well-aware of the seriousness of animal-related injuries. While working as an emergency medicine vet, I was bitten by a patient. My joints became infected. I had severe pain, extensive surgery, and months of physical therapy in order to re-gain proper function of my hand.
Because of my injury, I developed gloves that will help to protect against animal-related injuries. The purpose of The ArmOR Hand Gloves is to allow safe and proper animal restraint technique. Proper technique can be achieved because of the superior flexibility and dexterity of the gloves. The ArmOR Hand Protector Gloves offer protection to the wearer, while facilitating restraint of the animal by allowing sufficient flexibility and dexterity.
There are two styles available. The first style, The Original Animal Handling Glove, offers hand and arm coverage up to the elbow. Reinforced high-injury areas provide additional protection. The use of the gloves provide personal protection of the hand and forearm, decreasing the chance of bites and scratches, and the transmission of zoonotic disease. Vaccine administration is easy and possible wearing this first style, as well as the second.
The second style, the "Procedure-Palpation Glove," is the exact same glove as The Original Animal Handling Glove. This style has the first 3 fingertips exposed. This allows for palpation, vaccine administration, blood draws, toe nail trims, ear cleanings, medication administration, placement of ET tubes - anything you need to accomplish in practice.
Procedure-Palpation Glove
Our Gloves are Machine Washable!
ArmOR Hand Protective Gloves are machine washable and are able to be wiped down to help decrease zoonotic and infectious disease transmission.
ArmOR Hand is a Fear Free Preferred Product. The gloves are also compatible with low-stress animal handling techniques. Fear Free handling as well as low-stress handling can not be achieved by bulky "welder" gloves, or gloves that do not have superior flexibility and dexterity. This is because we are not able to compassionately or safely restrain without the use of excessive force when using bulky gloves.
Our gloves offer protection, cost savings, safety, low-stress handling & they are professionally endorsed.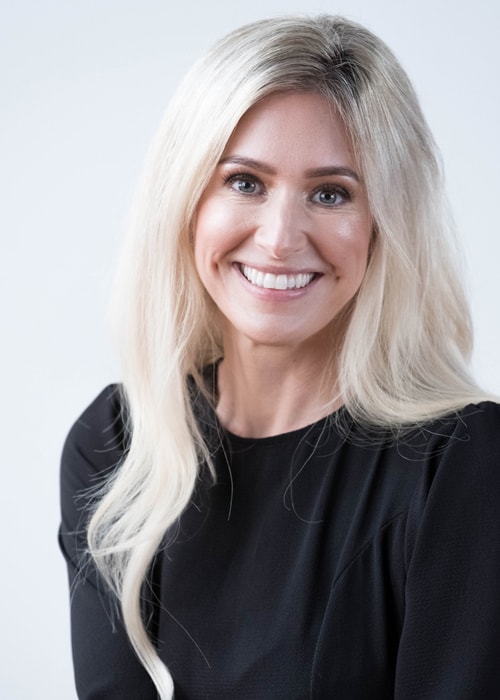 Founder & President of ArmOR Hand Glove
Dr. Laura Catena graduated from The Ohio State College of Veterinary Medicine. She is a small animal veterinarian. Dr. Catena is the Founder and President of The ArmOr Hand Animal Handling Gloves. She developed the gloves after and injury she endured while working emergency medicine. ArmOR Hand is a compassionate glove, designed to allow for proper and safe restraint technique, without the use of force. The glove is used to safely handle animals, reduce injuries to humans, improve animal welfare, and advance the cause of wildlife and pets.
ArmOR Hand is a reusable glove, ensuring a low impact on the environment. The glove decreases disease transmission, supporting the One Health initiative. Dr. Catena achieved a Fear Free Preferred Product certification for ArmOR Hand Gloves. She has been a contributing author to an award-winning pet advocacy site with 500M+ views and shares. She is a data-driven animal doctor known for deriving unique insights from complex information. She is a self-motivated leader translating personal experiences into relatable stories and products.
Dr. Catena is the recipient of Pet Age 2021 Women of Influence Lifetime Achievement Award. This award celebrates individuals who set industry benchmarks for excellence. The recipients are high-performance leaders who have made a notable impact on the field in which they work while also inspiring a new generation of women to make an impact on the pet care community and the pets we serve. The recipient has demonstrated exceptional courage, strength and leadership to bring positive change to the pet care community. Recipients have a solid reputation based on experience, integrity and leadership, and have a proven track record of accomplishments. Dr. Catena is a veterinary advisor to two veterinary supplement brands. She has been featured on veterinary podcasts as well as has been published in veterinary journals.
ArmOR Hand gloves are made of ALL synthetic materials. Stretch Cordura – one of the materials of the gloves is the STRONGEST of the stretch materials – it is used in the lining of tires. Neoprene over the knuckle – another material allows for increased hand articulation. Double Knit Kevlar – Kevlar is another VERY strong material used in the gloves. Inside of the cuff – Non-Slip material added for increased protection.
RAVE REVIEWS
Professional animal caregivers, pet owners, wildlife rehabbers, and others absolutely love ArmOR Hand Gloves. See their reviews here!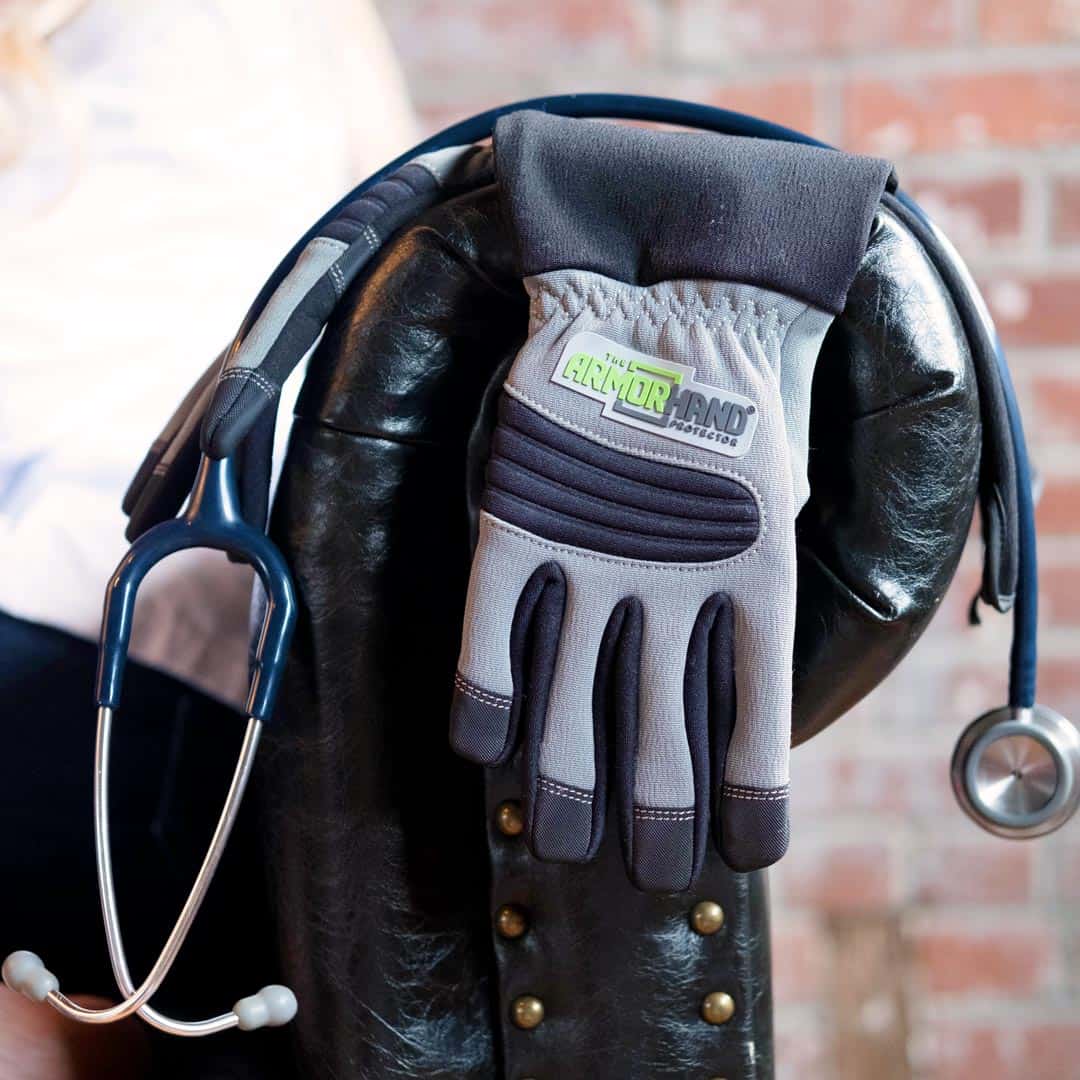 Have Questions or Need Support?
Be safe. Glove up. More Feels. Less Force.
The ArmOR Hand Protective Gloves® are bite resistant, not bite proof.
They can decrease the severity of injury, if injury occurs.