The ArmOR Hand Protective Gloves
Testing Results & Interpretation
In order to determine the "puncture resistance" of a product, the glove industry uses a standard of testing and scale called the "Puncture Resistance ANSI/ISEA Testing."
One important note to start this discussion: – puncture resistance does not mean puncture proof. As with all animal handling gloves on the market, no glove should be labeled as puncture proof because many factors are at play if an injury occurs.
The testing to determine puncture resistance uses a probe. The probe is 4.5mm (3/16") and is shown in the photo below in between a needle and a pencil point, for reference: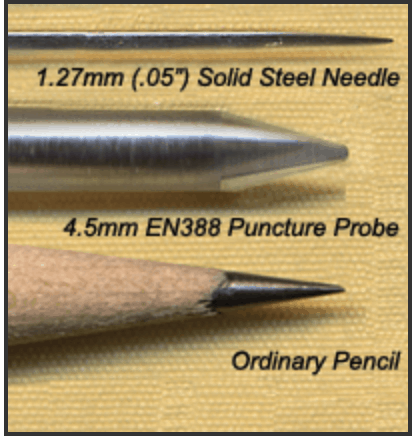 In the testing process, the probe was placed directly on a pair of ArmOR Hand Protective Gloves. Force is then applied to the probe. Once the probe goes through the material being tested, that force is recorded and given a number that corresponds to a scale.
The scale used for testing starts at 0 and goes up to 5. A score of 0 means that the probe punctured through the materials being tested very easily (with less force or "Newtons"). A score of 5 means that the strongest force was used in order for the materials to be punctured. A score of 5 is the highest level of puncture resistance that you can achieve on the ANSI/ISEA scale.
We are thrilled to report that the ArmOR Hand Animal Handling Gloves received a 5 in testing. In fact, the force required to puncture through the gloves was higher than the corresponding force to receive a score of 5, which means the gloves are more puncture resistant than the highest score on the scale. This result is why we insist on using the highest grade materials and reinforce our gloves with Dupont Kevlar™.
However, even with a score of 5, please keep in mind that the probe differs from the teeth or claws of an animal. It is important to always use caution when working with animals and to assess body language to ensure that you and your staff are safe. The ArmOR Hand Animal Handling Gloves will help to keep the animals that you care for safe, as well as yourself and your staff. The materials used are unique to gloves, are made of the strongest of the stretch materials, and are machine washable.
Be Safe. Glove Up.
More Feels. Less Force.